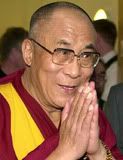 Yesterday,I saw an interview of 14th Dalai lama on his 75th birthday by
Barkha Dutt
and was rightly amazed and amused with simplicity and humor from a spiritual leader.Dalai lama is the head of Tibetan Buddhist monks. As I used to think, it is not the name of the person, it is the title just like Pope for Christians. At present , we have 14th Dalai lama beginning his reign from 1950's till present.His Holiness shared his experiences throughout his life.Among those, I would like to share a few facts which I found interesting from this elegant,intelligent yet humorous Buddhist monk.
He is very fond of watches and eating non-vegetarian food. As he from Northern Tibet where vegetation is not possible, he has to go for meat as a part of diet. At age 7,
he was presented a watch by Theodore Roosevelt , an American President in 1942. He feels that he is half-Buddhist and half-Marxist. He believes that communism with moral values has a potential to change the world.He has been here in Dharmashala,India for 5 decades and believes that Tibetans are the disciples of Indian Buddhist masters like Nalanda.He is a spiritual leader with scientific inquisitiveness of a common man.
This is small glimpse of a great spiritual leader of our time who preaches non-violence and brotherhood more than religion.I learnt more regarding Buddhism and Tibetan movement through this interview.I always felt that science and spirituality must coexist like mind and heart in our body.Thus, we need more of these kind of spiritual leaders to make this world a better place to live.
Links for related wikis: